David Hoflin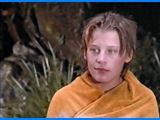 Seventeen year old David Hoflin (pronounced Darvid) started his film career at the age of eight alongside superstars Meryl Streep and Sam Neil in the film "Evil Angels". A decade later sees David with a leading role in the worldwide hit television series, Ocean Girl.
David has played the role of Jason Bates in all three Ocean Girl series and will continue the role in the upcoming fourth series. Jason is Ocean Girl's closest friend and confidante, a role that has seen him lead Neri and the ORCA kids through many exciting adventures and escapades.
Born in Stockholm, Sweden, David and his family came to Australia when he was four years old. From this early age David was performing at every opportunity, "my mother remembers a time when I acted like a dog for several days, if she spoke to me I'd bark in response!" Another time David put on a spontaneous one man play for his dentist!
Following on from these beginnings David worked on several Australian films and television programs but Ocean Girl has certainly been the highlight. "It's the best thing I've ever done. The atmosphere on set is great as are the storylines. I feel very proud to have worked on the production as it hasn't broken away from the environmental theme which is so important. The significance of friendship is another strong theme and there are no racial prejudices – people from ORCA are from all walks of life – even alien!"
David has just completed his final year at high school. And although he would like to make acting his career, he also hopes to attend University to study Law and History. "Acting isn't stable enough unless you have an ongoing job, I'd like to have a degree to fall back on".
Outside of study and Ocean Girl David spends a lot of his time playing the guitar. His "hero" is Eric Clapton. He keeps fit by playing indoor soccer and basketball and is a champion tennis player. He also enjoys creative drawing and reading up on History. "I'm intrigued by the lost civilisations – the Great Pyramids and the Sphinx. I like to contemplate History's unsolved questions."
David's own future is also very much on his mind, ultimately he would like to work on feature films with Directors such as Martin Scorcese, Steven Spielberg, Quentin Tarantino and Australian Director, Fred Schepisi. He'd love to work with actors such as Sean Connery, Anthony Hopkins and Leonardo De Caprio and actresses Meryl Streep (again), Lauren Holly and Cathy Baker.
Judging from the amount of fan mail David receives from all over the world there's little doubt David will be successful. "I get a lot of mail from Japan which is fun. They are so polite – they call me Mr. David! It's heartwarming that they take the time to write to me, many say it's the first letter they've ever written in English!"
With the fourth season of Ocean Girl scheduled for filming in 1997, David has his immediate sights set on returning to the role, "My main ambition now is to finish Ocean Girl 4!". After that there should be no shortage of roles for David as he becomes a most eligible leading man.