Marzena Godecki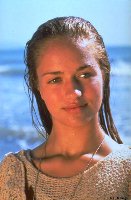 Marzena Godecki was born in Poland on September 28, 1978. She was 16 and a modern dance and ballet student in Melbourne, Australia, when she was selected from more than 500 girls who auditioned for the role of Neri in Ocean Girl.
When she first tried out for the part Marzena recalls being taken to a local ocean pier in Melbourne and thrown into the cold waters to see if she was comfortable. She was, and after landing the lead role, Marzena was able to sharpen up her swimming skills and learn how to scuba dive at the Ocean Girl location, Port Douglas in Far North Queensland, Australia.
During the filming, she's been able to swim with dolphins and even with a pod of Minke whales that came up to the film crew's boat. Because much of Ocean Girl is filmed in the open water, Marzena is always under the close watch of a stunt and dive safety team who keep a watch out for curious sharks!
Marzena's favourite food is Japanese (though she eats a lot of Indian because it's her Mum and Dad's favourite) and her favourite bands are Pearl Jam, Soundgarden and Stone Temple Pilots.
Marzena has taken most of 1996 off from Ocean Girl to complete her final year at secondary school concentrating on her favourite subjects – Maths and Science. She hopes to secure a place at University in Australia in Veterinary Science owing to her love of animals. However, acting will always come first and Marzena plans to put university on hold while she nurtures her acting career.
Now gracing television screens in 70 countries around the world, Marzena has accumulated quite a fan club. But despite the hundreds of fan letters she receives and the fact that she is often recognised in public, Marzena doesn't see herself as a star. "I didn't get into acting for fame and glory" she says, "but rather to be successful at what I do and to enjoy it".
Marzena acknowledges that playing the character of Neri has certainly rubbed off. "I'm more environmentally aware than ever before - especially towards the oceans" she says "when filming underwater for Ocean Girl 3 I was sickened to see litter on the Great Barrier Reef – one of the Earth's natural wonders. I do my best to help the environment and, as we all know, every little bit counts".
With the fourth season of "Ocean Girl" scheduled for filming in 1997, Marzena now looks forward to returning to the role. "I'm really excited about the fourth series, after a year of study I can't wait to play Neri again".
She can also be seen sometimes as a guest star on the show "Round the Twist".